Favorite Gear & Useful Tools
Often in sessions or classes, we use the below tools.   I don't officially endorse any of these products or take responsibility for any of their claims or dangers.
Over the years, I've made a note of a lot of products and the list is getting long.
Here are some short links to get you there quicker:
Separate Pages:
Sections below:
Therabands
Virginia uses bands made by Theraband and a few others. Make sure to take care of them and keep them out of the sun. Replace when they show wear.
Circular Band Options
Virginia uses these in most leg oriented workouts. They are also fantastic for shoulder girdle work.
Foam Rollers
White Models: Just a good ole standard foam roller for most people to lie on head to tail.
1/2 circle of the white density
Blue Models: much quite softer: all length's, full circular rollers, & 1/2 rollers
Blacks Models: much firmer foam rollers. Not for the faint of heart.
Either model, I recommend the 30-36″ lengths so you can lay on them with the foam roller supporting you from your head to tail bone.
Dumbells & Ankle Weights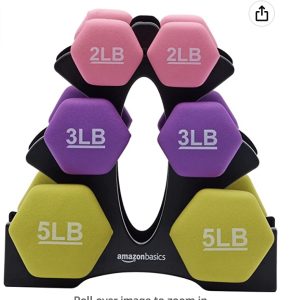 Free Weights from Amazon
They come in every variety…
Amazon's set with a stand: sets of 2lb, 3lb, 5lb
With the above link you can also access neoprene pairs of weights from 1lbs through 20lbs.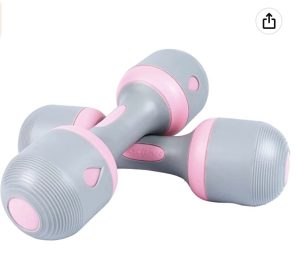 Nice C Weights: Adjustable Dumbbells, Neoprene 10-in-1 Options
2.3 to 4.5 lbs each weight.
The ratings are good but I've not tried them.  I like the concept and saving space.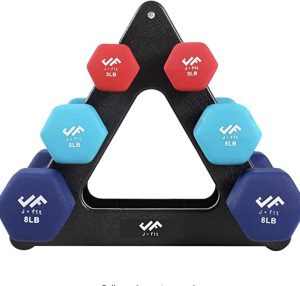 JFIT Dumbbell Hand Weight Pairs and Sets
Neoprene and Vinyl Dumbbell Pairs Options or 7 Neoprene Dumbbell Rack Set Options – Premium Non-Slip, Color Coded Hex Shaped Hand Weights

Virginia's Favorite and also sold at the Sports Basement:
JFIT Neoprene D Grip Dumbbells – Premium Non-Slip, Hand Weights, Ergonomic Design
Sold as single weights, 1 – 5LBs.



Ankle Weights
Adjustable Ankle Weights Ankle/Wrist Weights (1 Pair) with Adjustable Strap (2lbs, 3lbs, 4lbs, 6lbs, 8lbs & 10lbs).  You can change the weight of each between 2lbs to 10lbs.
The designer brand that is really quite lovely and quite pricey.
1lb set
2lb set

---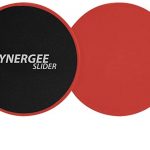 Great for a home gym or travel. They enable you to mimic many Reformer and Core Align movements. Buy at Amazon.
---
Developed by Trent McEntire, McEntire Pilates. See Home Workouts for speed ball games.
Brain speed ball work is appropriate for every person, any level, athlete or seniors as well as kids.
Purchase from Begin Again:
Purchase
Buy the Brain Speed Ball
Calf Stretching Foam Wedges
Using a wedge is much better for your feet than standing off a step or stair. A wedge will support your whole foot while stretching.
My own mentor's recommendation is to put one in your bathroom and use it while brushing your teeth. It's a great way to get the stretch twice a day. I have the twins doing this. You could also put it by the kitchen sink and stand on it while you do dishes.
Economical Calf Wedge from Amazon
Stretch the calf, plantar side of the feet, ankle, and Achilles tendon

Comes as a set of 2

Each wedge measures 12″L x 12″W x 3. 5″H at the tallest

Wedges can be stacked for more incline
Middle of the road and excellent quality:
100% Foam

Ideal for stretching, strengthening and rehabilitation at home or in the clinic, these foam incline boards are easier-to-use and more affordable than wooden, metal or plastic alternatives.

OPTP Slant boards are integral in the prevention and treatment of common lower-leg and foot problems such as Achilles tendonitis, heel spurs, shin splints, calf strains, plantar fasciitis, overuse syndromes and post-surgery contraction.

They're perfectly suited for stretching and weight-bearing exercise at home or in a clinic. Can also be used to improve the sitting posture of children.

These lightweight, but sturdy, slant boards are constructed of special weight-bearing foam, making them easier-to-handle and more cost-effective compared to wooden, metal or plastic boards. 18° incline.

Measure 11¾" L x 11¾" W x 3¾" H with an 18° incline.
The  BEST: Balanced Body Pilates Arc
My favorite tool for calf stretching.
3-IN-1 TOOL: This 3-in-1 Pilates Arc can be used as a Pilates barrel to open up your back or as a spine corrector to stretch your spinal muscles. You can also use it as a wedge by sliding it onto the shoulder rests of your Reformer to challenge your strength and mobility.

VERSATILE TRAINER: This foam back exercise equipment is an excellent tool for practitioners who are just getting started with Pilates as well as those who want to challenge themselves. It stretches the muscles, corrects the posture, conditions the whole body, and promotes stability.

TARGETS THE WHOLE BODY: This arc trainer has a unique patented shape. It features steep but gently curving sides to help practitioners exercise their arms and shoulders, spine and lower back, and legs and feet. With its ergonomic design, it comfortably fits small to large body types.

LIGHTWEIGHT & VERSATILE: Our Pilates Arc weighs only 4 lbs., making it very easy to move around. It is fitted with a detachable wedge that you can flip over to use for core strengthening and balance training. This tool can be used as stand-alone equipment or combined with your Reformer.
A great prop for any Pilates workout and barre.  Virginia often refers to these as the 9″ balls.
Back up brands:


If other brands are sold out:
Recovery & Soreness
Balls & Spikey Balls
You'll find that you want to start with a bigger softer ball (tennis ball).  As your muscles and fascia loosen up, you'll find you can tolerate and like the spiker and stiffer balls.  Also, your feet might want one consistency but say your back or IT Band needs another consistency.  So having a variety ends up being what most clients want for long-term maintenance. Tennis balls and lacrosse balls also can work quite well.
SMALL MASSAGE BALL: Our small rubber ball measures 2.5″ (7 cm). It is often used as a massage ball for feet, but it can also be used for other target areas, such as the shoulders, neck, hips, and hands. It can help improve standing posture and gait.

DURABLE & COMFORTABLE: Our strong ball massager is made out of hard rubber, making it extremely durable. Plus, the hard natural rubber helps to provide intense pressure to those extra-stubborn spots that hold lots of tension.

DESIGNED FOR ACTIVE LIFESTYLES: Our mini massager ball is well suited for athletes and fitness enthusiasts who have sore or tense muscles. Spice up your home-gym equipment and daily routine with this hard rubber ball.

TRAVEL MASSAGE BALL: Due to its small and lightweight design, this self-massaging tool can easily be moved. No matter where you go, your Pilates exercise routine won't get off track because you can take this ball with you when you travel.

BALANCED BODY: Balanced Body is dedicated to providing Pilates-based education and equipment that empowers users to be mindful of movement, make healthy lifestyle changes, and ultimately find balance.
Feet, Back, Neck, Hands – Spiky Body Massager Rollers for Plantar Fasciitis, Deep Tissue, Muscle Relief, Trigger Point Therapy.
SPIKY MASSAGE BALL SET – includes 3 balls with hard, medium and soft spikes of varying length for different exercises and therapy

RELIEVES PAIN AND TENSION – exercise roller balls massage your body, reach deep tissue, target trigger points and relax sore muscles

UNIVERSAL MASSAGE TOOLS – with more than 200 pressure points they can be used as foot balls, back rollers, neck, shoulder and hand massagers

DURABLE AND LIGHTWEIGHT – 3.15 inch exercise roller balls are extremely portable and can be carried anywhere you need them

RELATED – foam roller, plantar fasciitis ball, therapy ball for hands, vibrating massager, rolling spike ball, spiked fascia roller, stiff neck relief, lacrosse therapy ball
"Gumball" bouncy balls
Just ask Virginia for one.
---
Stimulates the feet and improves circulation
Versatile, convenient and easy to use
Compact, portable and perfect for travel
Used for people with fallen arches, plantar fascitis, sore feet, reflexology, bunions and hammertoes
Kit contains 2 Yamuna Foot Wakers and instructional DVD
---
Books
Massage & Recovery Tools
Gaiam Restore Pressure Point Muscle Roller Massage Stick
It looks painful but it feels wonderful.  Releases and massage muscles.  Keep one under your desk to rejuvenated your feet.
Hyperice Products
A good Alternative to the Hyperice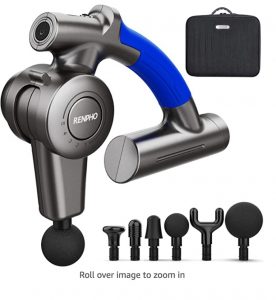 Theraworx Relief Fast-Acting Foam for Leg Cramps, Foot Cramps and Muscle Soreness, 7.1oz
Stinky" Stuff
My favorite acupuncturist turned me to this product 15 years ago and it's been a go-to for sore muscles since.  Warning, it seems so strong of herbs that it might wake up your sleeping spouse in the middle of the night!
Do add a heat pack for extra relief.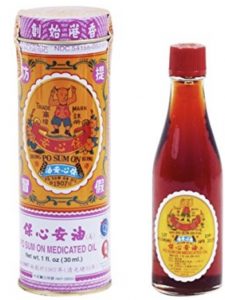 Warning: Very fragrant, don't use if you are sensitive to smells or will be around other sensitive folks.  So do not use it before a fitness class, the gym, an important meeting, or a date!
Po Sum On Medicated Oil from Amazon
---
Kinesiology Tape:
Kinesio Kinesiology Tape (Gold)
My clients with sensitive skin tolerate the GOld tape more often than other brands.  This brand is my go-to tape for my own use.  It tended to last 3-5 days and was a better value than RockTape, KT Tape, and other brands.
Trick: use baby oil when removing any kinesiology tape.
Other Kinesiology Tape Brands:
RockTape H2O (Extra Sticky/made for swimmers)
RockTape H20 was my favorite until 2021.  It's reformatulated and not quite as good as Kinesio Gold.  It's still sold more widely and easier to find.  Some clients get a rash or rug burn when removing this tape. Do be careful if you have sensitive skin.
RockTapke H20
RockTape h20 Single Roll from Amazon
RockTape h20 in Bulk from Amazon
---
Dr Teal's, our favorite brand of Epsom Salts
I've found that the best price for this brand is often at Ulta.com.  My favorite for soreness is the Detox with Ginger and Clay.  Use 1-2 cups per bath (yes, that's a lot).
Heat Packs
Usually made of corn kernels or rice.  Just microwave.  Be careful not to warm them and burn yourself.
One I'm curious to try: Happy Wraps® Herbal Neck Wrap w/Free Lavender Eye Pillow & Free Sleep Mask – Microwave or Freeze
Extra Long Heating Sunny Bay from Amazon"Neck & Shoulder Style from Amazon
---
Grip Socks: ToeSox & Tavi Noir
When doing Pilates work I highly recommend having socks with grips on the bottom.  Your feet will be less likely too slide and it will increase your proprecieption of your feet.
Below is my favorite brand and I actually carry these at the Begin Again Studio.  I really like the separate toes as it provides more grip and awareness + sensory feedback for "getting into" your feet.
Magic Circles by Balanced Body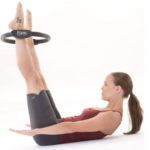 Two size options
---
Yoga Mats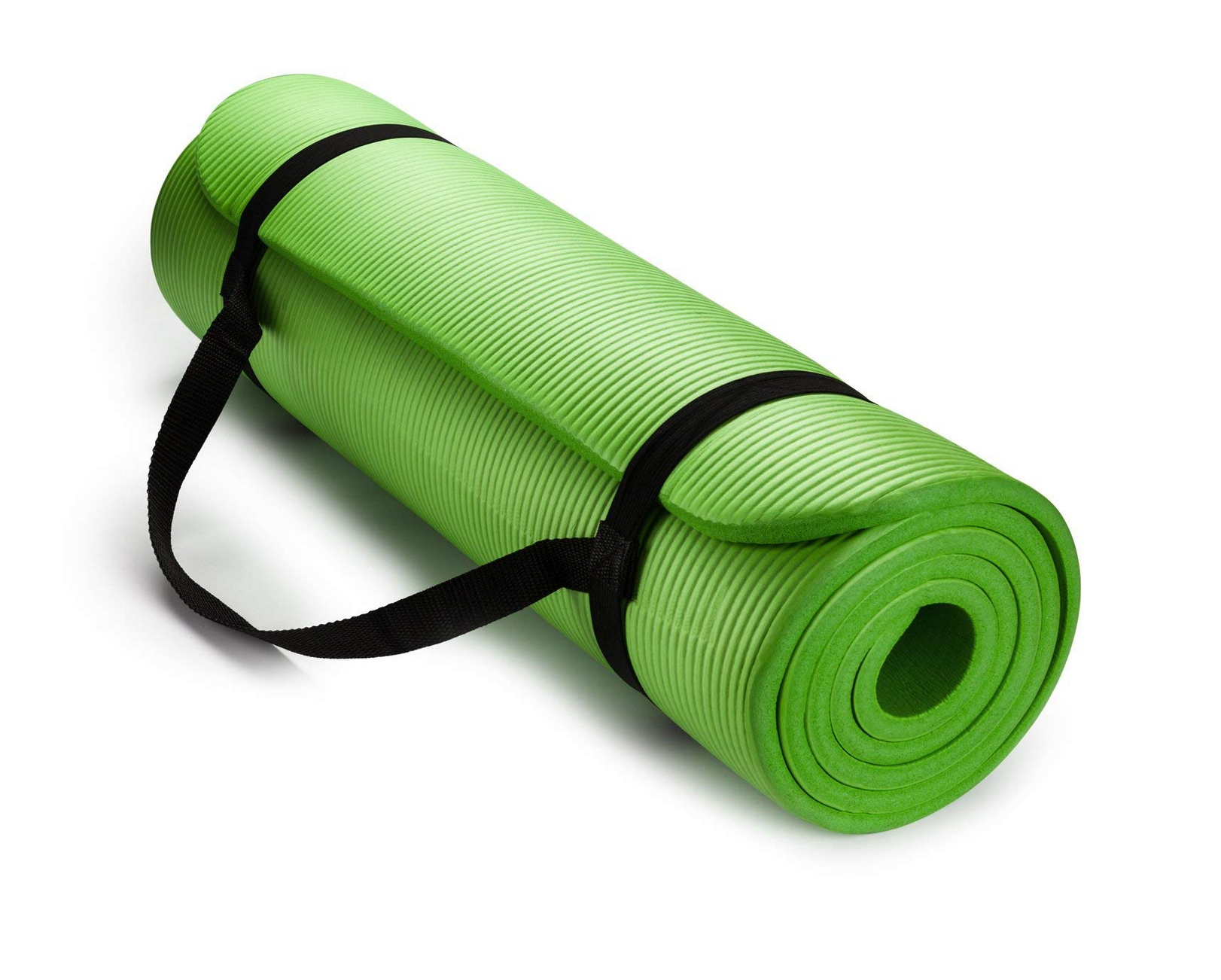 Standard Mat – would be great to use at any conventional studio environment. Buy Yoga Mats from Amazon
"HemingWeigh" Yoga Mat making outdoor concrete surfaces doable. I think these would be too soft and squishy for use on carpets and some indoor floors. Do use on hard floors if you have an issue with normal mat causing pain.  I've gotten frustrated and slid a little when doing lunges and standing work.  The Balanced Body mat below has better grip but is not as portable.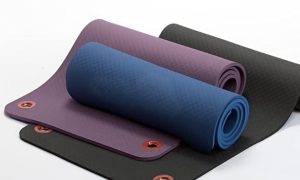 ---
Stability Balls
I go with the classic Gaiam brand even though there are so many options out there. The Stability Balls come in many sizes meant to correlate to a person's height
go with the classic Gaiam brand even though there are so many other brands out there.  The Stability Balls come in many sizes meant to correlate to a person's height.
45cm Stability Ball (Kids' size)
55cm Stability Ball (Users between 5'0″ and 5'5″ tall)
65cm Stability Ball (Users between 5'6″ and 5'11  tall)
75cm Stability Ball (Users between 6'0″ and 6'5″ tall)
Joseph Pilates' Book:
---
Miscellaneous
Turmeric
Turmeric Capsules by Pure Encapsulations: CurcumaSorb – with Meriva
Bioavailable Curcumin Phytosome – 180 Capsules
BioSil by Natural Factors, Bone Collagenizer Ultra (60 Servings)
"Collagen"
Ginger Chews:
Gin-Gins
Motion sickness relief: Purchase on Amazon
---